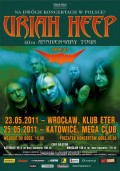 2011-05-00
British legendary rock band Uriah Heep return to Poland to play two shows as part of their 40th anniversary tour! Uriah Heep?s unique, progressive, hard sound has made them a mainstay of the rock circuit for four decades. Famed for their accomplished musical chops, diverse song writing and powerful live performances, the band has released some of the most popular and defining music of their genre.
więcej
2011-04-00
The icon of the progressive rock, Pendragon, return to Poland to play 8 shows as part of the tour promoting their forthcoming album "Passion". The show in Wyspianski Theater in Katowice will also feature the performance of Strawberry Fields and Wojciech Hoffmann's project DRZEWA.
więcej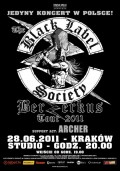 2011-03-09
Black Label Society return to Poland to play the only show in Stodola Club in Warszawa. This heavy metal band formed by Zakk Wylde, released so far eight studio albums, one live album, two compilation albums and one EP! The band is currently promoting their most recent album "Order of the Black".
więcej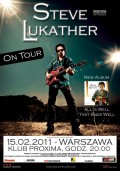 2011-02-15
Steve Lukather - an American guitarist, singer, songwriter, arranger, and record producer best known for his work with the rock band Toto. Lukather has played with countless artists, released several solo albums and, as a studio session guitarist, has been involved with arranging, composing, and recording on over 1,000 albums
więcej

2011-02-07
The legendary hard-rock band from Irland on the one and only show in Poland! Support act: The Supersuckers. The band comes to Poland as part of the European tour. Do expect to hear the best Thin Lizzy's songs like ?Whiskey In The Jar?, ?The Boys Are Back In Town? or ?Jailbreak?!!
więcej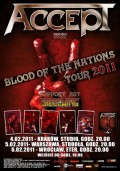 2011-01-31
It?s a rarity that a band manages to surprise so many in such a short time. Their new album "Blood Of The Nations" has not only received endless accolades and reviews across the globe, it has easily become a candidate for top hard rock album of the year 2010.
więcej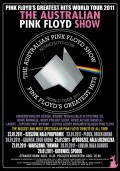 2011-01-00
Metal Mind Productions is proud to present THE AUSTRALIAN PINK FLOYD SHOW !!! This time the band is returning to Poland to play seven shows as part of the PINK FLOYD'S GREATEST HITS WORLD TOUR 2011
więcej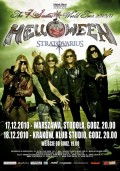 2010-12-00
Helloween, one of the pioneering power metal bands from Germany, returns to Poland to play two gigs as part of the The 7 Sinners World Tour 2010/11! The band will be supported by Stratovarius (Finland) and Avatar (Sweden)!
więcej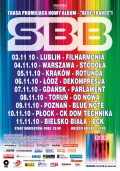 2010-11-00
SBB, a legend of Polish music scene, plans to support their forthcoming studio album "Blue Trans" on a big tour around Poland. The band, comprised of the phenomenal composer Józef Skrzek, the excellent guitarist Apostolis Anthimos, and the flawless drummer Gabor Nemeth, is currently working on the new album in ResRublica Studios in Lubrza, again with Sebastian Witkowski, who produced their previous album ?Iron Curtain? (2009).
więcej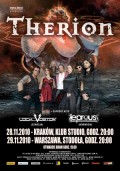 2010-11-00
Legendary death / progressive metal band from Sweden returns to Poland in November to play two shows ! Support acts: Loch Vostok and Leprous!
więcej