back to list
2023-05-09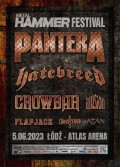 Metal Hammer Festival – another band added to the line-up
Metal Hammer Festival returns in 2023 with Pantera as a headliner!
This will be the loudest return to the concert stage, celebration of one of the best metal groups ever! For the first time in over 20 years, you will be able to hear live material from the iconic Pantera's albums that defined the metal scene of the 90s.
Two American bands, Hatebreed and Crowbar, will also perform at the festival, while the Polish scene will be represented by: Illusion, Flapjack and Subterfuge. The line-up of the event is completed by a London band - ATAN!
METAL MIND PRODUCTIONS
presents
METAL HAMMER FESTIVAL
PANTERA
HATEBREED
CROWBAR
ILLUSION
FLAPJACK
SUBTERFUGE
ATAN
05.06.2023 Łódź, Atlas Arena
Doors open: 15:00 Start: 16:00
Ticket prices presale / at doors:
Standing floor – 350/ 380 PLN
Seats cat. 1 - 420 / 450 PLN
Seats cat. 2 - 380 / 410 PLN
Seats cat. 3 - 320 / 350 PLN
Tickets on sale at:
http://shop.metalmind.com.pl (COLLECTOR'S EDITION)
Pantera is an American heavy metal band from Arlington, Texas, formed in 1981. The group's best-known lineup consisted of the Abbott brothers (drummer Vinnie Paul and guitarist Dimebag Darrell), along with bassist Rex Brown and lead vocalist Phil Anselmo. In addition to their development and popularization of the groove metal subgenre, Pantera is credited (along with others, such as Testament, Sepultura, and Machine Head) for being part of the second wave of thrash metal scene from the late 1980s to early-to-mid 1990s. Pantera is regarded as one of the most successful and influential bands in heavy metal history, having sold around 20 million records worldwide and having received four Grammy nominations. On December 8, 2004, Dimebag Darrell was shot and killed on stage by a mentally unstable fan during a Damageplan concert in Columbus, Ohio. Vinnie Paul went on to form Hellyeah after his brother's death, and died of heart failure in 2018, leaving Brown and Anselmo as the only surviving members of the band's best-known lineup. In July 2022, it was announced that Brown and Anselmo will reunite in 2023 for Pantera's first tour in 22 years!!
back to list