Concerts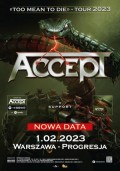 2023-02-01
German heavy-metal band return to Poland as part of the "Too Mean To Die 2023 Tour"! Support act to be announced soon.
więcej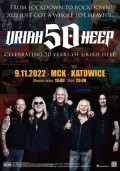 2022-11-09
British legend Uriah Heep return to Poland as part of the tour celebrating their 50th anniversary!
więcej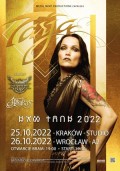 2022-10-26
Tarja Turunen, a Finnish singer-songwriter known best from her work with Nightwish, returns to Poland to perform two shows as part of the tour promoting her latest album "In The Raw".
więcej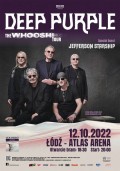 2022-10-12
British hard rock legend Deep Purple returns to Poland in 2022! Support act: Jefferson Starship!
więcej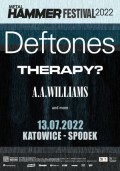 2022-07-13
Metal Hammer Festival returns in 2022! Deftones will headline the show!
więcej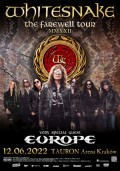 2022-06-12
Legendary rock'n'roll band Whitesnake on the only show in Poland as part of the 2022 Farewell Tour, along with a very special guests - Europe! Tickets on sale from Friday, 10th September.
więcej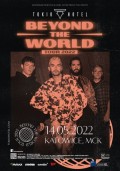 2022-05-14
Due to the ongoing COVID 19-pandemic, TOKIO HOTEL's concert tour has to be postponed. NEW DATE IN POLAND: May, 14th 2022 - Katowice, Międzynarodowe Centrum Kongresowe (moved from 06.11.2021)
więcej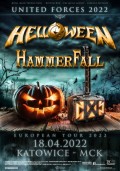 2022-04-18
We all have to stick together to stand and endure this agonizing live music gap and because extraordinary circumstances require extraordinary measures, HELLOWEEN invited their friends from HammerFall to join them on their European tour in order to create a tremendous metal-package together.
więcej
2022-03-14
The Australian Pink Floyd Show returns to Poland! The show will happen on 14th March 2022 in Wrocław as part of All That You Feel 2022 World Tour. Tickets on sale!
więcej

2022-02-15
Due to the ongoing live event restrictions and the uncertain developments within the months to come, Rhapsody Of Fire sadly had to reschedule their European tour. New date of the show in Poland to be confirmed soon. All tickets will remain valid for a new date.
więcej