back to list
2014-07-02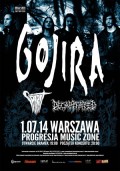 GOJIRA / Decapitated / Spirit - Warszawa
The only Polish show by Gojira, a French metal band from Ondres. Formed in 1996, the band was known as Godzilla until 2001. Gojira is composed of Joe Duplantier on vocals and rhythm guitar, his brother Mario Duplantier on drums, Christian Andreu on lead guitar, and Jean-Michel Labadie on bass.
Since their first studio album, Gojira has had no changes in lineup, written five studio albums and produced two live DVDs.
They are currently promoting their last album "L'Enfant Sauvage".
01.07.2014
GOJIRA
+ Decapitated
+ Spirit
Progresja Music Zone, Warszawa
gates open: 19:00 start: 20:00
back to list