News

2007-05-22
The sensational hard rock/progressive band from US - Fair To Midland - have just confirmed their appearance at this year's edition of the Metal Hammer Festival in Poland. They will perform on one stage along with Tool (US), Chris Cornell (US), Dir en grey (JP), Coma (PL) and Delight (PL)!
więcej

2007-05-22
Vader's forthcoming, yet untitled DVD is scheduled for release in October 2007 via Metal Mind Productions. The material will include the band's concert at Stodola Club in February 2007, when Vader presented a very special set to mark their 25th anniversary!
więcej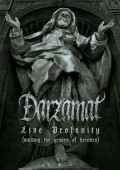 2007-05-17
On the 25th June Metal Mind Productions will release the first live DVD of one of the most important bands on the Polish black/death metal scene - Darzamat! DVD entitled ?Live Profanity (visiting the graves of heretics)? presents a combination of heavines
więcej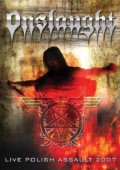 2007-05-14
British thrash-metal legend Onslaught will release their first live DVD on 11th June via Metal Mind Productions. After the band's reunion in 2005 and the release of their 4th studio album "Killing Peace" in 2007, the British thrash-metal legend Onslaught takes another step towards
więcej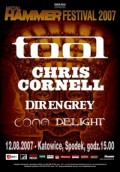 2007-05-10
We are very proud to announce that the phenomenal vocalist Chris Cornell confirmed his appearance at the Metal Hammer Festival 2007. He and Tool will headline the new edition of the festival that will take place on 12th August at Spodek Hall, Katowice (Poland).
więcej

2007-05-08
The 22nd edition of Metalmania Festival - the biggest metal fest in Central-Eastern Europe - will take place on the 8th March 2008 in Spodek Hall in Katowice, Poland. As usual, there will be two stages where over 20 bands will perform for thousands of metal freaks!!!!
więcej

2007-05-07
"Playing Off The Board" DVD from the Swedish band Andromeda is getting its first reviews. Very good ones we need to add! For example Greek on-line magazine Metal Perspective called it an "astonishing delivery". The reviewer wrote: "The sound is almost perfect and
więcej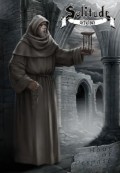 2007-05-07
Get ready for an hour of despair with the uncanny doom metallers from Texas! Robert Lowe's haunting vocals, unbelievably heavy and slow riffs, strange melodies and sublime compositions - all this complemented by the band's desperate, insane
więcej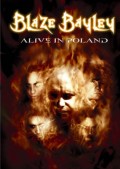 2007-04-27
As announced before, Metal Mind Productions will be releasing the first Blaze Bayley's DVD. The material entitled "Alive in Poland" was recorded during the 21st edition of the Metalmania Festival, which took place on 24th April 2007 in Katowice (Poland). Blaze Bayley and his band gave
więcej

2007-04-27
On 4th June 2007 Metal Mind Productions will release Caamora's "Walk On Water" EP. Caamora is a partnership of Clive Nolan (Pendragon/Neo) and Agnieszka Swita in a lavish and creative collaboration. They provide the artistic nucleus to an extravagant and imaginative musical experience.
więcej