back to list
2023-04-28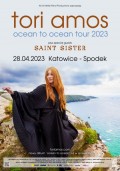 TORI AMOS - Katowice
Due to the ongoing live event restrictions and the uncertain developments within the months to come, Tori Amos sadly had to reschedule European tour. Show in Poland will happen on 28th April 2021 in Spodek Katowice. All tickets will remain valid for a new date.
METAL MIND PRODUCTIONS
presents
TORI AMOS

28.04.2023 Spodek, Katowice
Gates open: 19:00
Start: 20:00
Ticket prices - presale / at doors (seats only):
VIP - 350/ 370 zł
Floor sector B + sectors red & green H, J – 220/ 240 PLN
Floor sectors A i C – 195/ 215 PLN
Sectors green (except sectors H & J) – 195/ 215 PLN
Sectors red (except sectors H & J) + sectors blue rows I - X - 185/ 205 PLN
Tickets available from:
Since the release of her first, career-defining solo album Little Earthquakes, and her number 1 album Under The Pink Tori Amos has been one of the music industry's most enduring and ingenious artists, with three top 10 albums and the Global smash hit single Professional Widow which remained in the Top 40 for an impressive 15 weeks, continuing to rock clubland for over a decade. Tori has transcended from commercial pop success to using her music to tackle serious issues around female gender, subsequently paving the way for a generation of young female activist popstars. From her visceral depiction of sexual assault in "Me and a Gun" & her post-9/11 album Scarlet's Walk to her decidedly feminist stage musical The Light Princess, her work has never shied away from intermingling the personal with the political. Her most recent studio album, Native Invader (2017) was formed out of her desire to prove that "We can out-create the destructiveness that is all around us".
A noted humanitarian, Tori was the first public voice for RAINN (Rape, Abuse, and Incest National Network), which is the United States' largest anti-sexual assault organization, and continues to be member of its National Leadership Council.
back to list