back to list
2023-03-03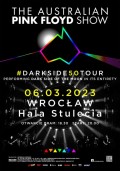 THE AUSTRALIAN PINK FLOYD SHOW - Wrocław
The Australian Pink Floyd Show return to Poland as part of the DARK SIDE 50 TOUR! All tickets bought for show in 2021 or 2022 remain valid for a new date.
THE AUSTRALIAN PINK FLOYD SHOW
#DARK SIDE 50 TOUR
The biggest and most spectacular Pink Floyd tribute of all time!
06.03.2023 – Wrocław, Hala Stulecia
start: godz. 20.00
gates open: godz. 18.30
Ticket prices - presale/ at doors:
I cat. - 185/ 205 PLN
II cat. – 170/ 190 PLN
III cat. – 150/ 170 PLN
IV cat. – 130/ 150 PLN
Tickets available at following sites:
http://shop.metalmind.com.pl (collector's edition)
back to list