back to list
2016-05-18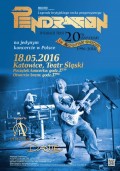 PENDRAGON / Dante / Art Of Illusion - Katowice, Teatr Śląski
Pendragon, progressive rock legend, returns to Poland for a one-off show as part of ?The Masquerade Overture 20th Anniversary Tour?!
In 2016, Pendragon's album "The Masquerade Overture" celebrates it's 20th Anniversary!
The band want to celebrate with you, so they are putting together some very special shows! Expect to hear your favourite Pendie songs old and new, and ALL of The Masquerade Overture in one show.
PENDRAGON (UK)
Dante (DE)
Art Of Illusion (PL)
18.05.2016 Katowice, Teatr Śląski
start @ 17.30
SOLD OUT!!
Tickets available online from November, 3rd: www.metalopolis.pl
Ticket prices:
I cat. 120 zł
II cat. 105 zł
III cat. 95 zł
standing: 75 zł
Additional information about tickets sale:
phone. ++48 32 205 25 00 (ex. 126) email: koncerty@metalmind.com.pl
Pendragon - line-up:
Nick Barrett - voice, electric guitar
Clive Nolan - keyboards
Peter Gee - bass guitar
Jan Vincent Velazco - drums
Pendragon - official website:
http://www.pendragon.mu
back to list