News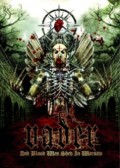 2007-08-23
As announced yesterday, Vader will release their third DVD in October. The DVD entitled "And Blood Was Shed In Warsaw" will feature the footage from the band's fantastic concert at Stodola Club in February 2007, which was the final stop of
więcej

2007-08-23
Metal Mind Productions presents re-release of the album "Motherwar" by Dispatched. This Swedish outfit is one of the most intriguing bands on the melodic death metal scene. Their thrilling debut "Motherwar" received an enormous number of positive reviews
więcej

2007-08-23
Metal Mind Productions presents re-release of the one of the most valuable thrash metal albums ever to see the light of day - "The Same Asylum" by Blind Illusion. At the time of its release in 1988 it was a truly unique
więcej

2007-08-22
Vader announced the title of their forthcoming DVD release! The material entitled "...and blood was shed in Warsaw" will feature the band's fantastic concert at Stodola Club in February 2007!
więcej

2007-08-17
Metal Mind Productions proudly presents a re-release of the Floodgate album: "Penalty". This stoner rock band emerged in the mid 90's, when the music scene was preparing itself for the upcoming wave of nu-metal. The New Orleans
więcej

2007-08-16
In 2007 Gang Green celebrates their silver anniversary: 25 years of drinking, partying and infecting the punk/hardcore scene with their twisted music. And today Metal Mind Productions present a re-release of the three Gang Green's albums: "You Got It", "Older? Budweiser" & "Can't Live Without It".
więcej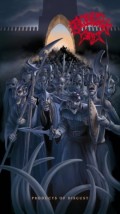 2007-08-14
Metal Mind Productions proudly presents "Products of Disgust" by Cerebral Fix: a complete discography of this English thrash/death metal band. This collector's item consists of 4 CDs, all with bonus tracks (demo, live
więcej

2007-08-10
We are very said to announce that Chris Cornell had to cancell his appearance at this year's Metal Hammer Festival. The following statement was posted on the official Cornell's
więcej

2007-08-10
On the 13th August 2007 (9th October in USA) Metal Mind Productions will re-release recordings of the legendary desert rock/psychedelic rock - Karma To Burn. This special collector's item includes 3 albums deleted for almost 10 years!
więcej

2007-08-09
Metal Mind Productions presents a remastered edition of one of the most intriguing releases in the history of Belgian metal scene: "Brutal Destruction" by Cyclone, one of the best Belgian thrash metal bands to date, and certainly the most aggressive one.
więcej