back to list
2017-04-22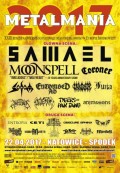 METALMANIA 2017 - Katowice
Metal fans have been waiting for this news for years! Metal Mind Productions is proud to announce that after a 9-year hiatus, the biggest indoor metal festival in Eastern Europe - Metalmania, comes back to life! The 23rd edition of this iconic festival will be held on April, 22nd 2017 in Spodek Hall, Katowice (Poland).
It will be one of the most important musical events of 2017, a real treat for metal maniacs worldwide! Metalmania remains true to its formula - one day, two stages, over 20 bands from all around the world and thousands of fans! That's what Metalmania Festival is all about!
METALMANIA 2017
22.04.2017
Katowice - Spodek
Main stage:
Tygers Of Pan Tang, Sinister, Animations, Arcturus, Furia, Vader, Entombed A.D., Sodom, Coroner, Moonspell, Samael
Second Stage:
Impaled Nazarene, Mentor, Stillborn, ThermiT, In Twilight's Embrace, Mord'A'Stigmata, Infernal War, THAW, Obscure Sphinx, CETI, Entropia
The last edition of Metalmania Festival took place at Spodek Hall in Katowice on March, 8th 2008, with Megadeth, The Dillinger Escape Plan, Overkill and Satyricon on the bill!
Ticket prices:
FAN Ticket - 666 PLN (available only at shop.metalmind.com.pl)
VIP - 355 PLN
Red seats H, J - 260 PLN
Red seats & blue seats (rows I-X) - 195 PLN
Blue seats (rows XI and up) - 160 PLN
Standing floor - 170 PLN
Online sale:
metalopolis.pl, www.shop.metalmind.com.pl, www.ticketpro.pl, www.eventim.pl, www.ebilet.pl, www.biletin.pl, www.ticketportal.pl
back to list