back to list
2022-09-18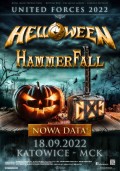 HELLOWEEN + HAMMERFALL - Katowice
We all have to stick together to stand and endure this agonizing live music gap and because extraordinary circumstances require extraordinary measures, HELLOWEEN invited their friends from HammerFall to join them on their European tour in order to create a tremendous metal-package together.
The UNITED FORCES TOUR 2022 called alliance is not only the full HELLOWEEN experience, on top the fans will enjoy fine Swedish steel out of the HAMMERFALL forge.
Andi Deris (Helloween): "We are 'hammered' to have our friends from HAMMERFALL with us on tour! Back in 2002 the band produced their album 'Crimson Thunder' in my studio in Tenerife and we had a lot of fun back then. This mega-package is delivering the appropriate metal-spectacle to enter the stage with full power!"
Please hold on to your tickets as they stay valid for the rescheduled show date.
HELLOWEEN
+ HAMMERFALL
18.09.2022 Katowice, MCK
Gates open: 18:30
Start: 20:00
Ticket prices:
160 PLN presale / 180 PLN at doors
Tickets available at:
http://shop.metalmind.com.pl/ (COLLECTOR'S EDITION)
back to list