back to list
2021-10-18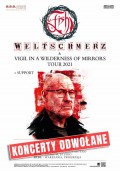 CANCELLED - FISH - Kraków, Wrocław
On account of the ongoing pandemic and the complete uncertainty as of when we are allowed back to do regular concerts, FISH has decided, with a very heavy heart, to cancel all of his European concerts scheduled for autumn 2021.
The logistics of a tour to encompass over 40 shows in 8 countries cannot be addressed right now, and cannot be guaranteed at shorter notice. No need to explain that this has not been an easy decision for FISH, but currently it is unavoidable. With the current state the world is in no new dates can be scheduled for now. Please contact the venues or ticketing agents for refunds.
Fish, one of the most charismatic neo-prog vocalists, returns to Poland in 2021 as part of the tour promoting his forthcoming album "Weltschmerz". He will also perform songs from his debut solo album , "Vigil In a Wilderness Of Mirrors"!
FISH "WELTSCHMERZ" / "VIGIL IN A WILDERNESS OF MIRRORS" TOUR 2021
+ support
14.10 - Wrocław, A2
18.10 - Kraków, Studio
gates open: 19:00
Start: 20:00
Ticket prices:
Wrocław - 130 PLN (presale) / 150 PLN (at doors)
Kraków - standing: 130 PLN (presale) / 150 PLN (at doors); seated: 165 PLN (presale) / 185 PLN (at doors)
Tickets available at:
http://shop.metalmind.com.pl (COLLECTOR'S EDITION)
More information about tickets:
tel. 32/205 25 00 (wew. 113), 32 253 71 82
e-mail: zamowienia@metalmind.com.pl
Derek William Dick, better known as FISH (born 25 April 1958), is a Scottish singer-songwriter and actor. He achieved prominence as the lead singer and lyricist of the neo-progressive rock band Marillion from 1981 until 1988. In his solo career he has explored contemporary pop and traditional folk and rock.
Music critics have acknowledged Fish for his voice, which has been described as both "distinct" and a "conflation of Roger Daltrey and Peter Gabriel", while his lyrics have been praised as "poetic prose". Fish was voted number 37 in the greatest voices in rock by Planet Rock listeners in 2009.
Photo: Kai R. Joachim
back to list