powrót do listy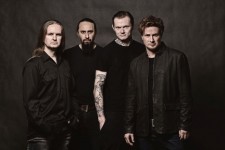 COCHISE
The band was formed in 2004 in Białystok, Poland. So far, they have released a demo "9" plus five full-length releases - "Still Alive" (2010), "Back to Beginning" (2012), "118" (2014), "The Sun Also Rises For Unicorns" (2015) and "Swans And Lions" (2018). Their forthcoming sixth studio album is scheduled for October, 18th (December, 13th in North America). Musically, new material is a continuation of what the band recorded so far. On their studio albums, Cochise perfectly blend energetic songs enriched with heavy, almost metal sounds with more delicate, atmospheric ones.
Wojtek Napora (guitar): Our new album will have a lot in common with Cochise's previous albums, especially with "Swans & Lions". The same line-up, the same way of recording (drums in Studio Hertz, the rest in "Nagrywatornia"), a similar way of composing. However, there will be some differences. After all, we don't want to record Swans & Lions II (laughs). First of all, after a few years break we have returned to our native language in some texts. We also established again a closer "contact" with Indians. It is thanks to Andrzej Pągowski who designed wonderful cover artwork.
Paweł Małaszyński (vocal): The title of the album was taken from a documentary film about the cultural assimilation of Indians and their fight for human rights with white people. Dennis Banks, leader of the American Indian Movement, said these words in court in Custer, South Dakota in January 1973. "Today is a good day to die because it contains all my life." This refers to the possibilities that arised from reviewing of life and finishing what remained still open. For Cochise, some doors still remain open...

Line-up:
Paweł Małaszyński - vocals
Wojtek Napora – guitar
Radek Jasiński - bass guitar
Adam 'Argon' Galewski - drums

Official fanpage:
powrót do listy