back to list
2017-12-01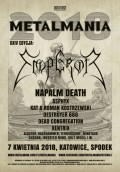 Napalm Death, Inverted Mind and KULT MOGIŁ confirmed for Metalmania Festival 2018!
Metalmania, the biggest indoor metal festival in Eastern Europe returns to Spodek Hall (Katowice, Poland) on 7th April 2018. The 24th edition of this iconic festival will be headlined by Emperor! Napalm Death, a British extreme metal band have just been added to the lineup. Polish bands Inverted Mind and Kult Mogił are confirmed to perform on the second stage.
Napalm Death - a British extreme metal band formed in Meriden, England, in 1981. They are credited as pioneers of the grindcore genre by incorporating elements of crust punk and death metal, using a noise-filled sound that uses heavily distorted, down-tuned guitars, grinding overdrive bass, high speed tempo, blast beats, and vocals which consist of incomprehensible growls, or high-pitched shrieks, extremely short songs, fast tempos, and sociopolitical lyrics. The band's debut album "Scum" from 1987, proved substantially influential throughout the global metal community. According to the Guinness World Records, their song "You Suffer" is the shortest song in the world, at only 1.316 seconds long. Napalm Death have released fifteen studio albums. The band is currently working on their new studio album scheduled for release in 2018.
Official websites:
Inverted Mind was formed in 2011 in Kraków. During the years they developed their own style - a fusion of sludge, stoner, doom and post metal. Their biggest inspiration are bands like Crowbar, Eyehategod, Amenra, Dopethrone or Obscure Sphinx.
Official website:
Kult Mogił is a death metal trio formed in Tarnów, Poland in 2014. In 2015 they released their demo "K + M + B 2015", and soon after that debut album "Anxiety Never Descending". In September 2017 the band released new EP "Potrentaque". Fans of bands like Portal, Necros Christos, Dead Congregation or Hellhammer/Celtic Frost should be satisfied!
Official website:
Metalmania Festival, one of the most important musical events of 20178, a real treat for metal maniacs! One day, two stages, several bands from all around the world and thousands of fans! That's what Metalmania Festival is all about! Tickets are on sale now!
7.04.2018 Metalmania 2018 // Katowice - Spodek
EMPEROR
NAPALM DEATH
ASPHYX
KAT & Roman Kostrzewski
DESTROYER 666
XENTRIX
DEAD CONGREGATION
ALASTOR
RAGEHAMMER
TERRORDOME
MINETAUR
SHODAN
INVERTED MIND
KULT MOGIŁ
Special guests:
Christophe Szpajdel - Lord Of The Logos
Krzysztof "Prosiak" Owedyk
+TBA
TICKET PRICES (PRE-SALE):
✔️ FAN - 666 PLN
✔️ VIP - 355 PLN
✔️ Red seats H, J – 260 PLN
✔️ Red seats & blue seats (rows I-X) – 220 PLN
✔️ Blue seats (rows XI and up) – 180 PLN
✔️ Standing floor – 190 PLN
Tickets available from:
ℹ️ More info:
back to list