back to list
2018-03-29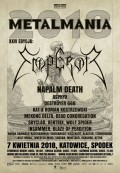 Metalmania Festival 2018 - signing sessions!
It will be one of the most important musical events of 2018, a real treat for metal maniacs! One day, two stages, several bands from all around the world and thousands of fans!

Metalmania Festival returns to Spodek Hall in Katowice, Poland on April, 7th! Apart from seeing your favourite bands performing on the stage, you will also have a chance to stand face-to-face with them during special signing sessions. The bands will be more than happy to sign your CDs, shirts, body parts etc.
Metalmania Festival 2018 - time schedule of signing sessions:
14.00 - WOLF SPIDER
14.30 - INSAMMER
15.00 - KAT & ROMAN KOSTRZEWSKI
15.30 - DESTROYER 666
16.00 - EMPEROR
16.30 - 16.45 - Q&A session with Krzysztof "Prosiak" Owedyk
17.00 - XENTRIX
17.30 - SKYCLAD
18.00 - NAPALM DEATH
18.30 - MEKONG DELTA
19.00 - ASPHYX
19.30 - DEAD CONGREGATION
7.04.2018 Metalmania 2018
Katowice - Spodek
Main Stage: Emperor, Napalm Death, Asphyx, Destroyer 666, Kat&Roman Kostrzewski, Mekong Delta, Dead Congregation, Skyclad, Xentrix, Insammer, Wolf Spider, Blaze Of Perdition
Second Stage: Anima Damnata, Ragehammer, Voidhanger, Viscera///, Alastor, Terrordome, Kult Mogił, Inverted Mind, Shodan, Minetaur, Roadhog, Ketha
Special guests:
Christophe Szpajdel - Lord Of The Logos
Krzysztof "Prosiak" Owedyk
TICKET PRICES (PRE-SALE):
FAN - 666 PLN
VIP - 355 PLN
Red seats H, J – 260 PLN
Red seats & blue seats (rows I-X) – 220 PLN
Blue seats (rows XI and up) – 180 PLN
Standing floor – 190 PLN
Tickets available from:
http://shop.metalmind.com.pl (collectors edition)
More info:
www.metalmind.com.pl/metalmania
www.facebook.com/MetalmaniaFestival/
back to list