back to list
2021-02-22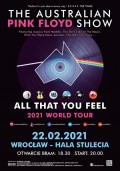 The Australian Pink Floyd Show - Wrocław
The Australian Pink Floyd Show returns to Poland! The show will happen on February, 21st 2021 in Wrocław as part of All That You Feel 2021 World Tour. Tickets on sale from August, 14th!
THE AUSTRALIAN PINK FLOYD SHOW
ALL THAT YOU FEEL
2021 WORLD TOUR
The biggest and most spectacular Pink Floyd tribute of all time!
22.02.2021 – Wrocław, Hala Stulecia
start: godz. 20.00
gates open: godz. 18.30
Ticket prices - presale/ at doors:
I cat. - 185/ 205 PLN
II cat. – 170/ 190 PLN
III cat. – 150/ 170 PLN
IV cat. – 130/ 150 PLN
Tickets available from August, 14th 10.00am:
http://shop.metalmind.com.pl (collector's edition)
back to list