back to list
2018-02-27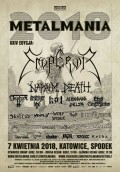 Metalmania Festival 2018 - two more bands added to the line-up!
It will be one of the most important musical events of 2018, a real treat for metal maniacs! One day, two stages, several bands from all around the world and thousands of fans!
Metalmania Festival returns to Spodek Hall in Katowice, Poland on April, 7th!
The 24th edition of this iconic festival will be headlined by Emperor! The line-up of the main stage is now completed with the Swedish band InSammer, while the Polish alternative metal act Ketha was added to the line-up of the second stage.
InSammer - one of Sweden's most promising metal bands which combines dark, pulsating Nordic grooves with Eastern European lyricism and melodic romanticism. Their live shows throb with emotional energy, Vika Dola's voice ranges from a whisper to a full-throated growl and melds with the instruments as verses explode into churning, hypnotic choruses and pounding, crowd-mesmerizing riffs. Band members call their sound as 'transfusion metal', a heavy mixture of alternative rock and nu metal, which evokes the shifting musical styles and feelings that pour over them and infuse their performances. The band was created in 2011 in Stockholm by Vika Dola and guitarist Dennis Wise. Their new EP "Seeds" is scheduled for release in March.
Line-up:
Vika Dola – vocal
Dennis Wise – guitar
Oleg Izotov – guitar
Nikita Simonov – bass
Teodor Alexuta - drums
Official websites:
Ketha is an alternative metal act from Poland. Soon after releasing their debut "III-ia" (2008), Ketha played several festivals and shows (with Vader, Riverside, Blindead, Antigama among others) and toured Europe as a supporting act for Minsk. The band's second full length album entitled "2nd Sight" came out in 2012. With almost completely new line-up (keeping MrTrip as the only "original member"), Ketha returned in 2015 with a release of "#!%16.7" EP. Band kept its musical growth and ven¬tured on a journey to the outer rims of heavy music, mixing twisted metal grooves with horns and electronics. The record received very high ratings in music media, with several places putting the EP on the list of "best records of the year". "0 hours starlight", the fourth release from November 2017, takes Ketha to the next level bringing music that is way more straightforward, dense and even more unique. Strong riffs, heavy grooves combined with catchy vocals and great production turned the record to be Ketha's most mature so far. Lyrically, album is devoted to human emotions, asking questions about personality, being individual and consequences of choices.
Line-up:
Michał Bartosik – bass
Maciej Dzik - drums
Bart Kaliszczak - guitar
MrTrip - guitar, vocal
Official website:
7.04.2018 Metalmania 2018
Katowice - Spodek
Emperor
Napalm Death
Asphyx
Destroyer 666
Kat&Roman Kostrzewski
Mekong Delta
Dead Congregation
Skyclad
Xentrix
Insammer
Wolf Spider
Blaze Of Perdition
Anima Damnata
Ragehammer
Voidhanger
Viscera///
Alastor
Terrordome
Kult Mogił
Inverted Mind
Shodan
Minetaur
Roadhog
Ketha
Special guests:
Christophe Szpajdel - Lord Of The Logos
Krzysztof "Prosiak" Owedyk
Ticket prices (pre-sale):
FAN - 666 PLN
VIP - 355 PLN
Red seats H, J – 260 PLN
Red seats & blue seats (rows I-X) – 220 PLN
Blue seats (rows XI and up) – 180 PLN
Standing floor – 190 PLN
Tickets available from:
More info:
back to list